Bonus Accumulator has certainly started with a bang! Over 4000 members signed up just within the first week of launch. We always knew there were lots of people keen to start profiting from casino offers but even we were blown away.
Bonus Accumulator was designed with a single goal in mind - to help people make money from casino offers in a way that's never been possible before.
After many months of meticulous planning and hard work, one month into launch we now have the chance to see if we are delivering.
So just how much have our members made taking advantage of casino this month?
We asked our members to report their first month's profits on our dedicated Facebook Group.
We've picked out a few of their answers below...

Sorry, just a quick reminder that all profits made are tax free! 🙂
Now here are their profits for April: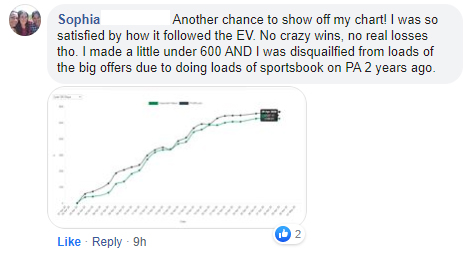 To see the full range of responses and advice from people then please visit our free Facebook Community Page.
If you're interested in learning how to take advantage of casino offers and want to make these profits too then why not give our Premium Membership a try for a month? It's only £17.99 and gives you instant access to our awesome learning guides, tons of casino signup offers worth more than £3600 in expected value and also loads of casino existing customer (reload) offers worth more than £650 in expected value every single month. If it turns out not to be your cup of tea you can cancel before the end of your first month with just one click. Going on our member retention rates after just one month in action though we very much doubt you will!
Want to start earning?
Give it a go. Become a Premium Member here and get started within minutes.